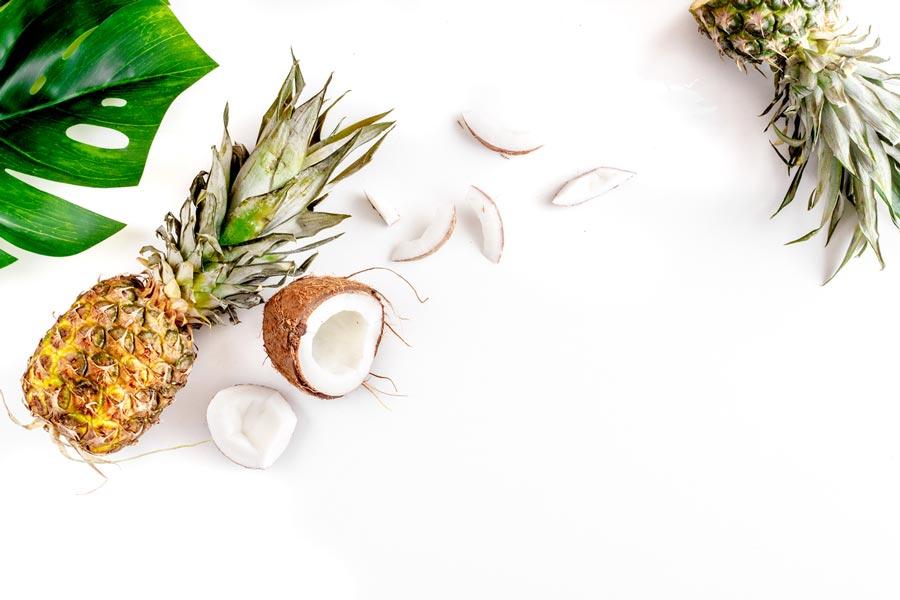 We were travelling last week to meet with some suppliers and after too much time in aeroplanes and hotel rooms I looked in the mirror and got an unpleasant surprise. Who was that looking back at me? :)
Your skin can take a real beating from air conditioning, heaters, dry air, blistering winds and humidity, and mine was no exception.
Cue: flaky skin, new lines, dullness, breakouts, or even yelps of pain!
Sound familiar?
But rather than spend a fortune on expensive salon treatments or resorting to covering yourself head to toe in layers (hello, sweatsville), did you know you can tackle some skin problems from the inside out?
It just may be the nifty solution you've been searching for.
Indeed, you really are what you eat and in conjunction with drinking as much water as you can, combating tired, dull skin is as simple as upping your fruits-and-veggies intake.
Yup, H2O-filled, essential-fatty-acid-packed and antioxidant-rich beauty foods are the one way ticket to glowy-gorgeous skin!
So, without further ado, presenting a crop (pun intended) of stellar superstar foods that will make your lacklustre skin glow like you've just returned from a Fijian vacay.
8 foods to eat for glowing skin
We've added a couple of non-vegan options in there - so for our Happy vegans please remember to skip these :)
Avocadoscontain epic amounts of vitamins like A, D and E and healthy omega-9 fatty acids, some of the greatest tools for building healthy skin. All of these nutrients help to even out skin tone over time when munched on regularly. Avocado oil can also be quite healing for dry skin, and has youth boosting properties on par with olive oil. Plus, who can resist a good smashed avo-on-toast spread?
Basilis proven to have acne-fighting properties in both its natural leaf form and as an essential oil. It aids in purifying blood and eliminating toxins from the body, therefore healing and preventing eruptions on the skin. It is also loaded with antibacterial, antibiotic and anti-fungal properties making it a natural home remedy.
Coconutsaside from being able to be used for just about every beauty faux pas in the book, contain potassium which is an electrolyte that helps move nutrients into our cells, like Gatorade for your skin. High in healthy fats, vitamins E and K and minerals, coconut oil assists in boosting natural nutrients for your hair, growth, shine and moisturising your scalp. (yi… yi… coco jumbo!)
NON-VEGAN OPTION - Collagen has been shown to brighten your skin and impart radiance, while helping to prevent premature ageing. Bone broth is a handy way to get a solid dose of collagen into your insides.
Matcha Tea is a fantastic anti-inflammatory and can assist with skin hydration. Drinking matcha tea in a smoothie or by itself will help prevent your skin from drying out and eliminate unwanted toxins from your skin and body thus preventing breakouts and excess oils. Huzzah!
Pineappleis high in vitamin C and the enzyme bromelain. These are known to be an effective skin softener, and can help the body synthesise collagen to give a youthful and glowing appearance. Nom, nom, noms.
NON-VEGAN OPTION - Salmon (just like avocado) is high in omega-3 fatty acids which when consumed can be best reflected in luminous skin and shiny hair. Salmon is a superstar choice as the fish does not contain toxins like other types of fish might. Increasing your fatty-acid intake can also help improve and protect skin.
Turmericcontains antioxidant phytochemicals, which help reduce the appearance of wrinkles. Turmeric is also great at promoting skin elasticity, nourishing skin and preventing age spots. Use turmeric on everything, we say!
What are you waiting for? Start glowing up, by eating up! And if you want to make your skin even HAPPIER click HERE to try our Super-Sized Sample pack :)
What are some of your favourite foods for glowing skin?