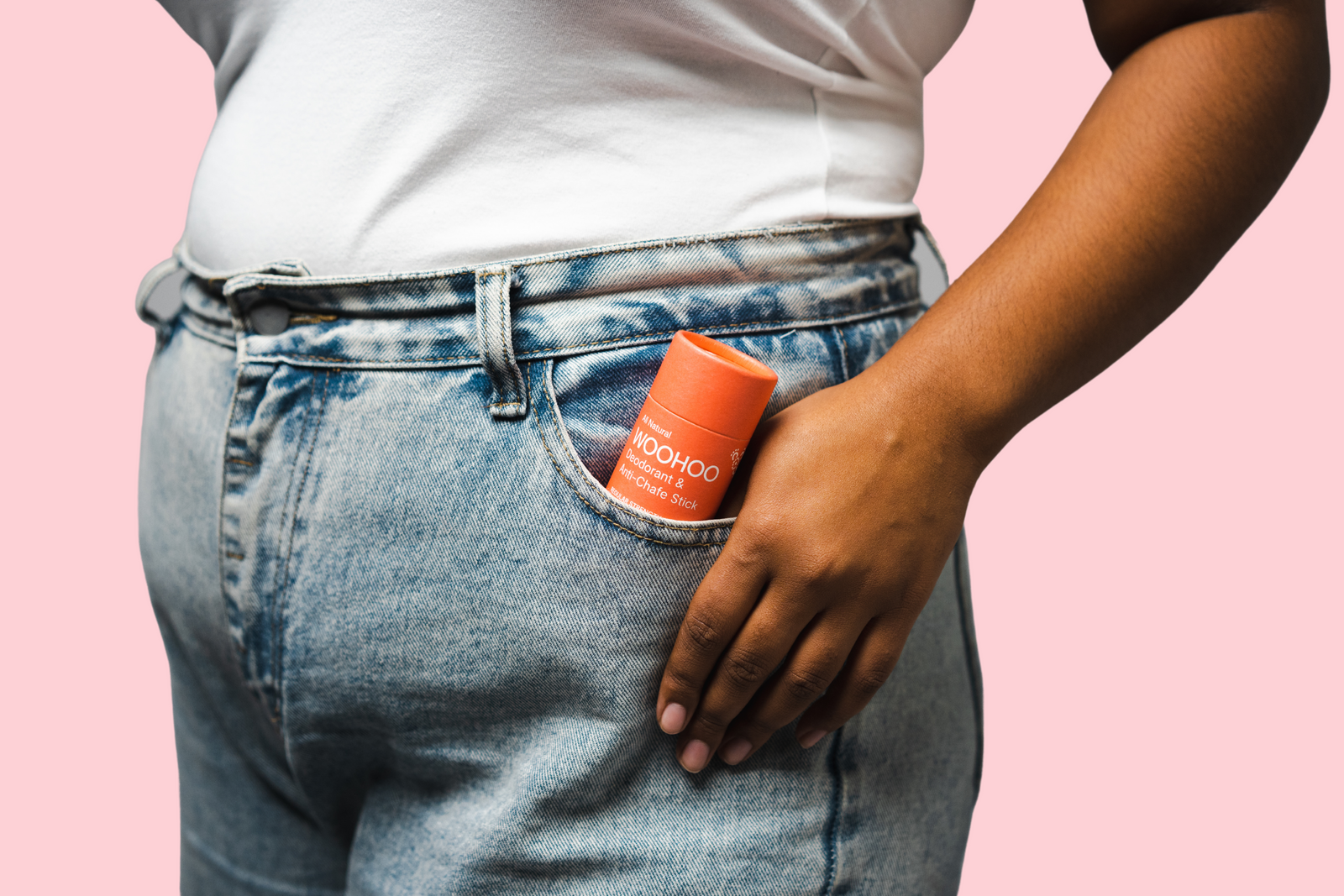 Can tweens, teens & kids use natural deodorant? In short, the answer is - yes, absolutely!
Natural deodorant is the *perfect* way to help your tween or teen manage their body odour. It can also be a really great way to open a conversation about personal hygiene.
We all know there's no such thing as a Parenting Rule Book (if only!), so when it comes to helping your developing person address their body odour, we need our own clever ways to do so without making them feel awkward. Especially considering body odour tends to go hand-in-hand with puberty.
As adults, we know that body odour is totally normal. However, for some younger folk, the hormonal changes that cause body odour can often start when they're as young as eight or nine years of age (and even younger for some!). Many kids don't notice their own body odour, so bringing up the topic early can help lessen the self-consciousness later on and help your child feel prepared.
A great way to start the chat is to talk about personal wellness; you might discuss the importance of daily exercise and eating a healthy diet and gradually move onto personal hygiene practices and how to combat body odour the healthy, natural way.
Take that, BO!
While it's likely you grew up spraying your underarms with antiperspirant (times they are a-changin!), a natural deodorant is a great product to include in your kid-friendly BO-busting toolkit.
Natural deodorants are free from the dubious ingredients used in antiperspirants. Instead of using aluminium salts, which clog the pores and stop your body's natural sweating process, most natural deodorants use plant-and-mineral-based ingredients and essential oils to successfully combat armpit whiff without preventing healthy sweating.
(Read more about why sweating is good for you here!)
Incorporating a clever clan of moisture-absorbing and odour-neutralising natural ingredients ensures natural deodorants are safe for your armpits and totally safe for your tween or teen. Just be sure to show them how to apply it properly to get the best results.
Which scent is best for kids?
Our entire Woohoo range has been tried and tested by kids of all ages, and we do have a few that we feel suit delicate young skin best, but this will vary depending on the age and skin sensitivity of your teen or tween.
When looking for a natural deodorant for kids, we recommend tweens opt for one of our gentlest formulas – usually starting with one that's bicarb free.
TIP: If you experience a sensitivity to natural deodorant, it's likely that you're sensitive to bicarb soda. It's a sensational deodoriser but can be the culprit for irritation. Even though we pair it with ingredients that minimise the chance of irritation, young or very sensitive skin may still be best off avoiding it altogether by going bicarb-free.
For example, Mellow is our original bicarb-free deodorant formula and is also free from essential oils, for the complete unscented skin-loving natural deodorant.
Our Tango natural deodorant is also bicarb free but it has an energising tangerine and lemon scent which screams "happiness".
Generally teenagers can choose from any of our natural deodorants or give our Sample Packs a whirl. We've noticed teens tend to love our Surf scent, or the particularly pongy teens have big wins with Wild (Wild is extra strength and contains extra bicarb soda).
When it comes to selecting natural deodorant for your kids, why not invite them to choose their scent? After all, letting your child pick out their own deodorant scent will help to make them feel empowered and more likely to actually use it!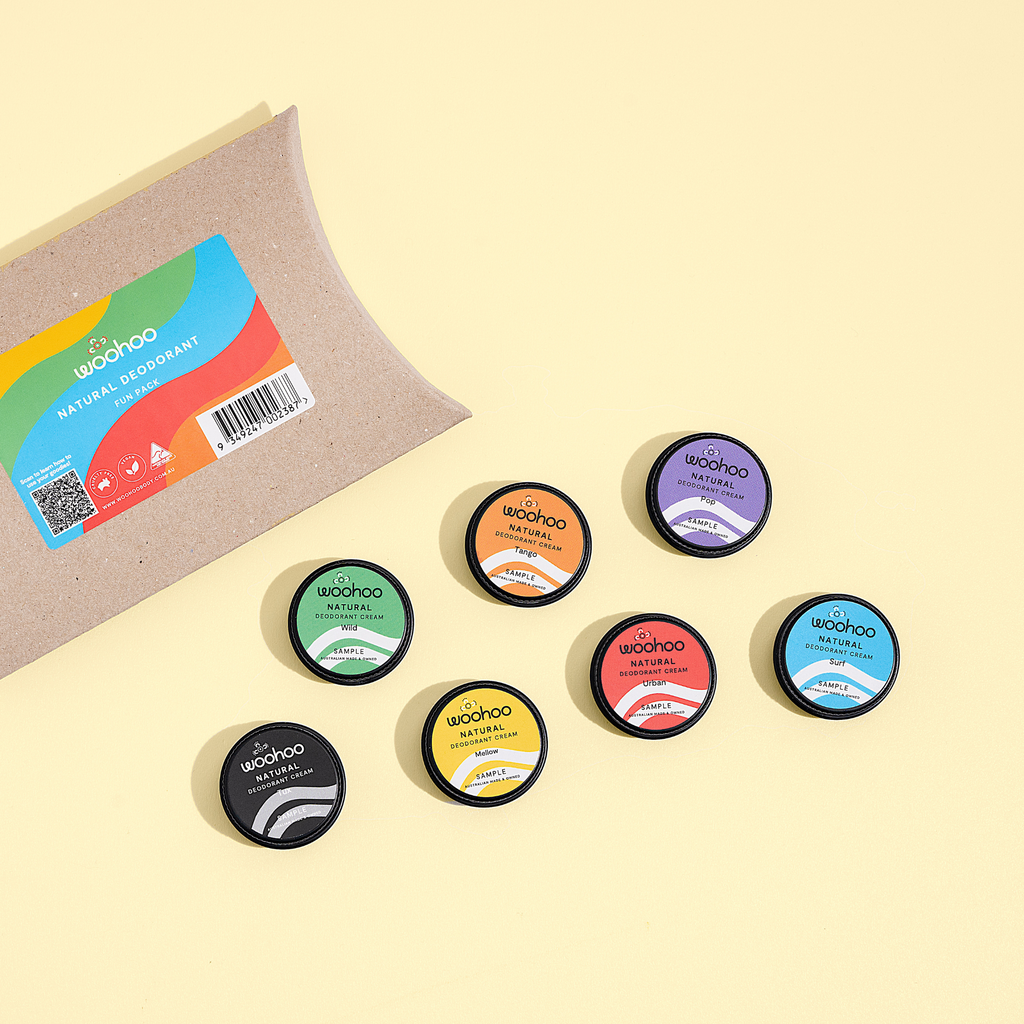 Woohoo Natural Deodorant Paste Sample Pack
$16.50 - $38.50
SHOP NOW
Keeping BO at bay
Aside from introducing natural deodorant, it also pays to educate kids on what actually causes body odour. After all, even some adults don't realise it's the mix of sweat and bacteria on the skin—as opposed to just the sweat alone. 
Understanding the importance of personal hygiene can help empower young people to take positive steps toward warding off body odour and keeping their skin fresh. Here are some tips to help keep your kid smelling sweet.
Teach them the importance of showering daily
Make sure they know how to wash properly (even natural deodorant should be washed off to give the pits some deo-free time!)
Encourage them to wash after sports activities
Help them to see that personal hygiene is their friend and can actually be fun with the right products
Make sure they wear clean clothes daily and not the same undies for a week (hey, it happens)
Don't forget skin hygiene
Maintaining good hygiene is not only important to help bust body odour, but it'll also help your child keep their skin happy and healthy.
Because teens/tweens are at an age where acne and pimples usually start to sprout up, gentle daily cleansing gets rid of dead skin cells, dirt, and bacteria from the surface of the skin.
This helps to limit the build-up of oil and grime, which can cause skin irritation and pesky breakouts.
While you're here…

😉

Just like with deodorants, it's best to choose skincare products that are gentle and free from harsh ingredients. Oh, and keep it simple. Cleanse. Moisturise. SPF. That's it!

Aside from getting your teen/tween switching to a natural deodorant, we recommend also spoiling them with our Clear + Calm 3 Step Face Bundle (for Oily Skin / Acne / Teens) to not only give them health, happy pits but fresh, clear skin too!

We also have these goodies available in sample size here so you can take them for a test drive before committing to the full sized range. 👍
'Clear + Calm' 3 Step Face Bundle (for Oily Skin / Acne / Teens)
$104.80 - $139.80
SHOP NOW