Dealing with chub rub (rubbing thighs), chafing, and breast sweat? You're not alone! Far from it.
Sure, chafing and sweaty boobs are very uncomfortable and make you feel self-conscious - but they're totally normal – and can affect everybody, regardless of your body shape or level of activity. It's just what bodies do. Welcome to the chub rub club.
But skin-on-skin chafing doesn't need to be a Debbie Downer. We've got a few effective ideas for you to help beat chafing thighs and battle under boob sweat.
Chub rub (aka 'frictional dermatitis') happens when your thighs rub together and is most common during summer, when the weather is hot and humid. It's a result of sweat and skin-on-skin friction, which causes redness, irritation (burning or stinging), and a bumpy rash. And if you have sensitive skin, then you're probably even more prone to chub rub. Very annoying!
Likewise, when the weather heats up you can say "hello" to sweaty breasts. Under-boob sweat can also be brought on by intense exercise, first date jitters, and even interview stress (stress sweat can be the worst… and it has the strongest odour!). While the feeling of moisture under your breasts and in skin folds is uncomfortable, it can also lead to bigger problems, such as chafing and ouchy boob rash.
How to prevent chafing
Now that we know how common, embarrassing, and often painful skin chafing is let's talk about how we're going to stop the chub rub and beat boob sweat. Here are a few simple steps you can take.
Stay dry
Firstly, moisture is not your friend when it comes to chafing. Excessive moisture makes chafing worse. Be it the weather or the clothes you're wearing, if there's excessive dampness on your skin your risk of friction and chafing increases.
We recommend popping some face wipes in your handbag and carrying them with you (there are some excellent natural and eco-friendly options out there). Use them to mop up moisture and cleanse the skin under and in between your breasts and skin folds throughout the day. This will help prevent chafing but also keep you feeling fresh and fabulous!
Choose your fabrics wisely
Fabrics play a big role in chafe and sweat control, and this goes for your clothes and your underwear. Thick bras and heavy materials will only cause you to sweat more. Instead, go for loose-fitting clothes and moisture-wicking fabrics, like bamboo.
Did you know bra sweat liners are a thing? Pop them under your bra and they'll help keep you dry and fresh. They'll help absorb sweat and are washable, so you can use them time and time again. So much better than sticking panty liners in your bra (not that we do that)!
Wear bike shorts (legit!)
Skirts in summer are great… BUT…. They don't offer any protection from skin-on-skin rubbing. Bike shorts can be a great solution to pesky thigh chafing, and can be worn under a skirt. Bike shorts create a physical fabric barrier between the skin on your legs to keep chub rub well and truly at bay. The downside, of course, is that on those super-hot days, they can get a bit uncomfortable.
You can also get anti-chafing thigh bands which will do the same thing as bike shorts but just go over your thighs rather than being a full short.
Create glide (with an anti-chafe deodorant stick)
When we talk about glide we're not talking about going ice-skating (although that would be kinda' fun!). We're talking about applying a lubricant to your skin to create a smooth, slippery barrier and help prevent skin friction and the discomfort that goes along with it.
Our all-natural Deodorant & Anti-Chafe Sticks contain shea butter and naturally-derived wax (cetearyl alcohol – the good kind of alcohol, not the bad kind) together with fractionated coconut oil. These ingredients all soothe, soften and protect your skin, creating an amazingly effective skin-on-skin glide to help eliminate friction. What's more, they also contain deodorising ingredients to keep you smelling fresh and absorbent powders to reduce that sweaty "wet" feeling.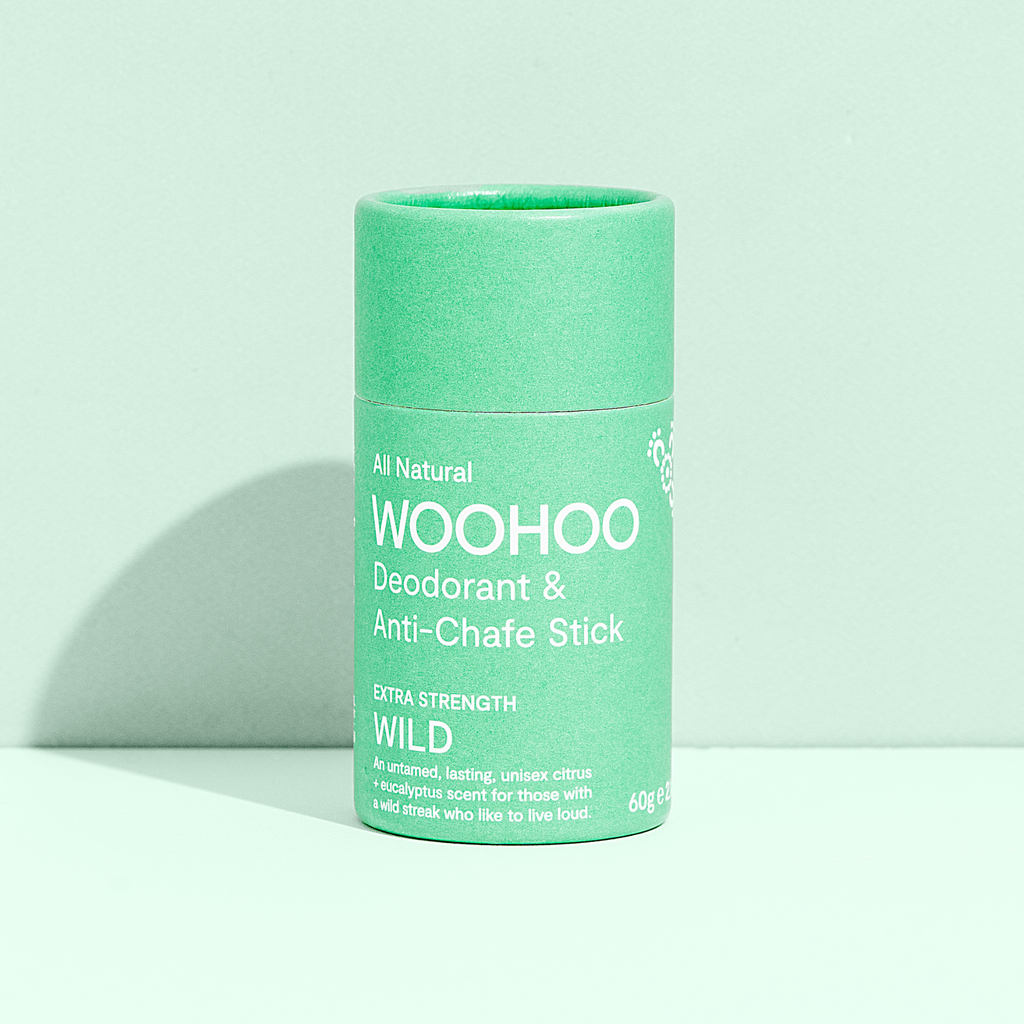 Woohoo Natural Deodorant & Anti-Chafe Stick (Wild) 60g
$16.95
SHOP NOW
Simply swipe some directly onto the skin areas you chafe the most as needed throughout the day (avoiding intimate areas). It can be applied onto thighs, under breasts, on armpits, under buttocks and even on your feet if you're prone to smelly tootsies (but careful walking around barefoot immediately after applying!).
Keep your chafe-prone areas washed and fully dried each day, paying special attention to making sure skin folds are dry. If you're experiencing irritation it's a good idea to try some extra moisturisation in the area.
For a really light, uber-calming, oil-free product, you'll love the Serenity Hyaluronic Body Serum. Or for something with more of a protective barrier to help with unhappy skin, try the Bestie Solid Body Moisturiser. Or… use them both! (applying the gel first, then the body bar to lock in all those skin-boosting active ingredients).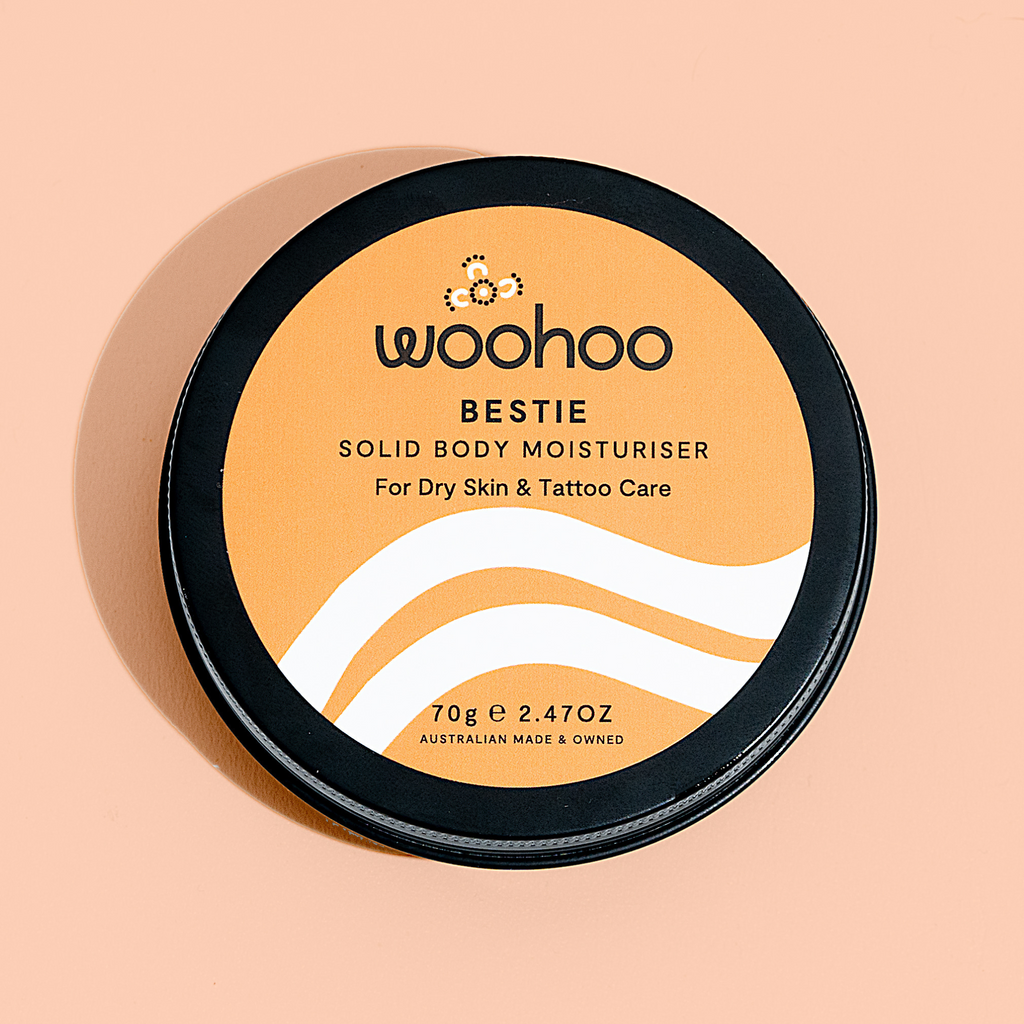 'Bestie' Solid Body Moisturiser
$24.95
SHOP NOW
Good luck to all our chafers out there! You've got this. But remember, you've got absolutely NOTHING to be embarrassed about.
Shop Anti-Chafe Deodorant Sticks