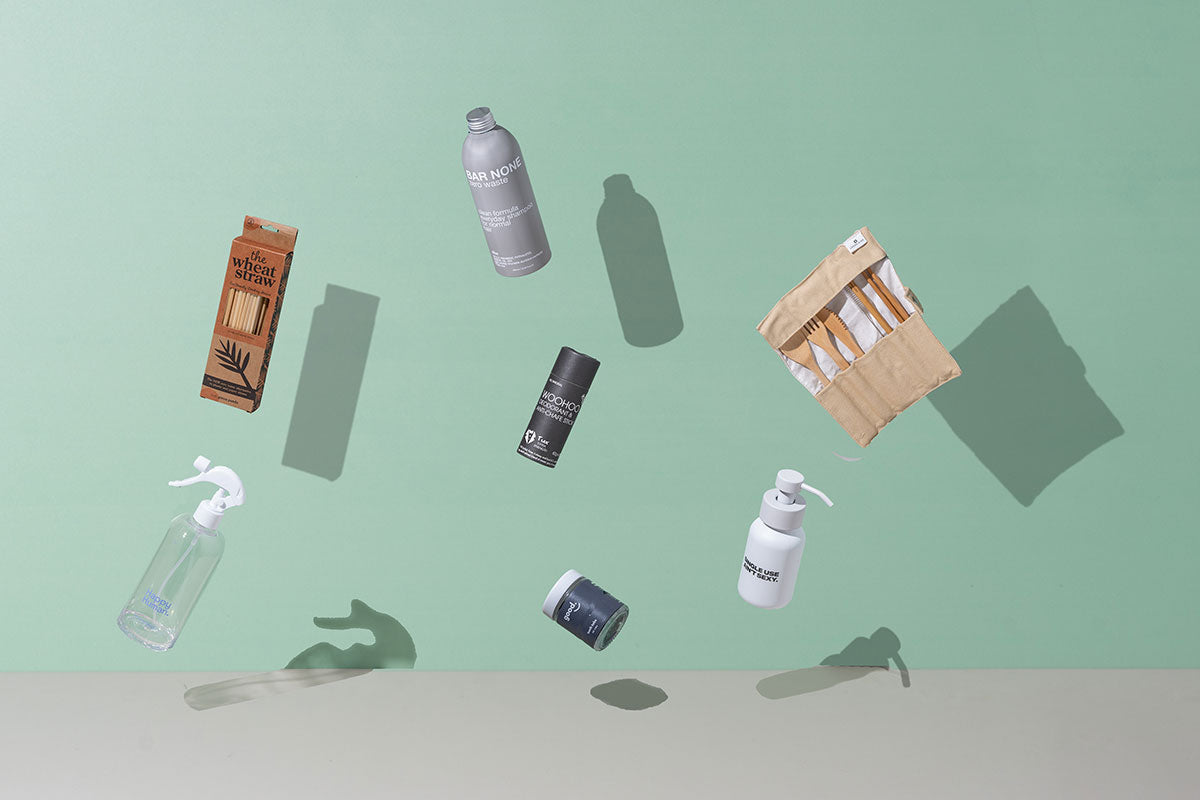 From earth-friendly soap to biodegradable cotton buds and hair ties, a few small switches to your beauty and personal care habits canreeeally help the planet.
Here are a few sustainable swaps to help support your Plastic Free July journey (and beyond).
Swap regular hair ties for biodegradable ones
How awesome would it be if good hair days were great for the planet too? Well, now they can be.
Instead of using regular hair ties to secure your super sleek style, switch to Bar None Biodegradable Hair Ties. These little beauties are waste free and (as the name suggests) biodegradable. We know! How fantastic is that?
Unlike traditional hair bands, which tend to be made from stretchy single-use plastic, these hair ties are made from a combination of cotton fibres and natural rubber. Yay!
Swap plastic cotton buds for bamboo buds
According to Sustainability Victoria, plastic cotton buds pose a massive threat to our wildlife. Of the 1.5 billion single-use plastic cotton buds that are produced daily, an enormous amount end up in our oceans and waterways where they can potentially block the digestive tracts of marine animals.
Whereas plastic-free cotton buds, such as Green + Kind Bamboo Cotton Buds, have a bamboo stick and a cotton top. This makes them 100% compostable and 100% a better choice.
Swap traditional deodorants for waste-free deos
Sure, the aerosol industry has made great leaps to phase out the use of manmade chlorofluorocarbons (most commonly known as CFCs), which are bad for the ozone layer. Yet, aerosol deodorants still contain a cocktail of chemicals and can impact climate and leach into the ground.
Thankfully, zero waste, toxin free deodorants are an excellent sustainable alternative. Take our Woohoo Deodorant Sticks, not only are they 100% natural and toxin free, but also they're neatly wrapped in biodegradable cardboard. No more worrying about armpit odour as you fight to save the planet!
Swap to planet-friendly soaps and sanitisers
Another way to support the environment is to swap single-use hand sanitisers and wash for refillable products. Single Use Ain't Sexy Hand Soap is a surefire way to keep your hands clean without creating plastic waste. The stylish (and totally reusable) glass pump bottle comes complete with four dissolvable soap tablets. You can pump, wash, repeat and nothing ends up in landfill. Hurrah!
Swap to sustainable oral care
Brushing your teeth is something you do every day without really thinking about. But have you stopped to consider the cost your oral hygiene could be having on the environment? Probs not!
Well, aside from the fact toothpaste comes in a plastic tube, it may also contain microplastics or other potentially hazardous ingredients —which end up down the drain.
So what's the alternative if we don't want yellow teeth and stinky breath? Try swapping your regular toothpaste for tooth tabs. Choose Good Tooth Tabs are made from natural ingredients and no nasties. You simply pop a tab in your mouth, chew it and brush with a wet (ideally bamboo) toothbrush.
The tabs come packaged in a compostable bag, along with a refillable glass jar, which means no waste. This simple swap alone could prevent more than a billion toothpaste tubes from ending up in landfill sites and oceans.
Swap to a 'green' clean
Of course, it's all well and good making sure our beauty and personal care products are sustainable and kind on the planet, but what happens when our bathroom or clothes need cleaning, too?
When it comes to eco-friendly cleaning, the Happy Human Multi-Purpose Cleaner Kit is a great place to start. It's a very versatile 500ml reusable PET bottle that comes with two cleaner tabs—housed in 100% recyclable, compostable packaging, of course! And, it can be used on a multitude of surfaces.
When you think of all the single-use cleaning products you use over the course of a year, swapping to a reusable, refillable system makes complete sense!
Support plastic-negative brands
Sounds a bit counterintuitive but hear us out. Woohoo Body and our sister brand, Woohoo Skincare, have partnered with rePurpose Global to become certified plastic negative. By supporting rePurpose Global to remove twice as much nature-bound plastic waste as our packaging creates, Woohoo Body + Woohoo Skincare are officially certified Plastic Negative. So even though our Woohoo Skincare products aren't plastic free, they carry a beyond Net Zero Plastic Footprint! Click here to learn more about our Plastic Negative certification.
Many of the Woohoo Skincare products are housed in Post Consumer Recycled Plastic, which has a much smaller environmental footprint than virgin plastic (and most other packaging options, too!). Another bonus is that our PCR bottles are made locally here in NSW in a carbon-neutral facility - that's 2 more boxes ticked - less transport and less emissions. 👍
Switch out your straws
Wowzas, there are a fair few swaps we can all make to do our bit for the planet. And, if after all your sustainability efforts you feel a bit thirsty, kick back and relax with a yummy cocktail or smoothie.
But don't forget to switch your plastic straw to a better alternative. We love Little Green Panda's Sugarcane Straws. Unlike paper straws, which let's face get kinda' soggy, these bad boys are super strong.
They're made from recycled sugarcane and are 100% home compostable. Impressive!
Plus, we like that they come in different sizes, so you can select a different sized-straw depending on what it is you're sipping. Make ours a Passion Fruit Lychee Martini, please!