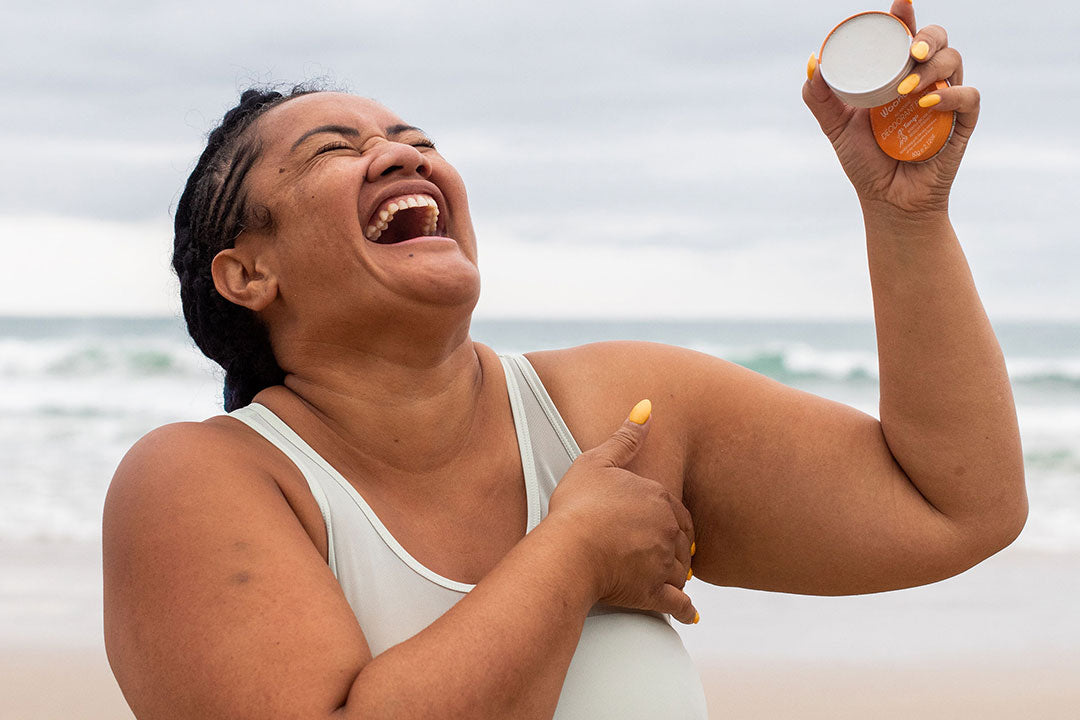 We can all agree that itchy armpits from deodorant both literally and figuratively, stink!
It's because many of the ingredients best-known for plugging your pores to stop sweating and masking BO can be pretty harsh on delicate underarm skin.
Our very own cosmetic formulator mastermind, Aaron, used to struggle with using deodorants back in his pre-Woohoo days as they caused extreme irritation under his pits – usually uncomfortable redness and itchiness.
If you've been blessed with ultra-sensitive skin like Aaron, you understand just how difficult it can be to find deodorant products that work and smell good without triggering mystery breakouts.
These 'breakouts' are most likely a case of contact dermatitis or an allergic reaction. They generally look like a red, itchy rash under the arms that scales or peels.
Any of the below ingredients commonly found in traditional deodorants can trigger reactions:
aluminum

fragrances

preservatives

dyes

metals

bicarb soda (that isn't pH balanced)
How to combat the deodorant-induced itch
Before we spill the beans on how best to soothe unhappy pits, let's throw it back to Aaron's sensitive skin journey for a sec.
We promise there's a happy ending!
The years passed and Aaron found himself constantly searching for a non-irritating deodorant that didn't suck. After trying all the non-natural antiperspirant and deodorant alternatives, he decided to give natural deodorants a go.
Aaron thought he was onto a winner when he found out about natural deodorant pastes that used bicarb soda. They were really good at beating the stink so he tried every one he could find. But they all had the same disappointing result after a few days….
Red, irritated armpits with an itch that would drive you mad!
Aaron knew that he wouldn't be alone. Surely there were other people out there who desperately wanted to go for a natural deodorant but were kept being let down by what was available.
And that's when he discovered that the problem with many natural deodorants was that the bicarb soda pH levels were way too high, causing irritation. They are way to alkaline, which was upsetting his skin's natural protective (and normally slightly acidic) barrier aka "acid mantle".
And so Woohoo Deodorant was born! Offering a blend of ingredients to lower the pH and create the most underarm-friendly deodorant the sensitive people of planet Earth had ever seen.
But… there was one little pickle.
Although a bicarb soda deodorant with a lowered pH is a fantabulous natural deodoriser, it still can upset some people's skin.
Even though we've carefully adjusted the pH of our other Woohoo deodorants to minimise the chance of irritation, there are some incredibly sensitive souls who can't tolerate even the tiniest amount.
That's when Mellow & Tango decided to join the party!
Meet our bicarb-free options - Mellow and Tango
Ever since we launched these two sensitive-skin-loving superstars, we've had oodles of customers reporting that they've experienced zero irritation and the happiest pits going around.
That's because they're completely free of bicarb soda.
Mellow is a very different Woohoo - a bicarb soda free, fragrance free, essential oil free, skin LOVING Woohoo All Natural Deodorant.
It has the smoothest of textures, applies like an absolute dream, and busts body odour like you wouldn't believe. Even without essential oils.
As for Tango, where do we even begin?! Everyone loved Mellow but wanted something that had a delicious scent.
So Tango uses the same powerful (yet gentle and skin-loving) formula as Mellow, but with the addition of tangerine, lemon and cedarwood essential oils to energise you and put an extra spring in your step.
Like a choir, the ingredients inside both of these little legends all work together to create the perfect nourishing (and non irritating) deodorant.
The Happy Ending
Even though Tango and Mellow were created with sensitive skin in mind, you don't have to have sensitive skin to use it. They actually work just as effectively as our other regular strength options, Urban and Surf!
No icky, sticky or itchy feelings here! Just incredible natural deodorisers, neutralising body odour without upsetting sensitive skin, keeping it as happy as can be.
Oh as for that happy ending we promised?
Aaron was never smelly (or itchy!) again.
The end :)