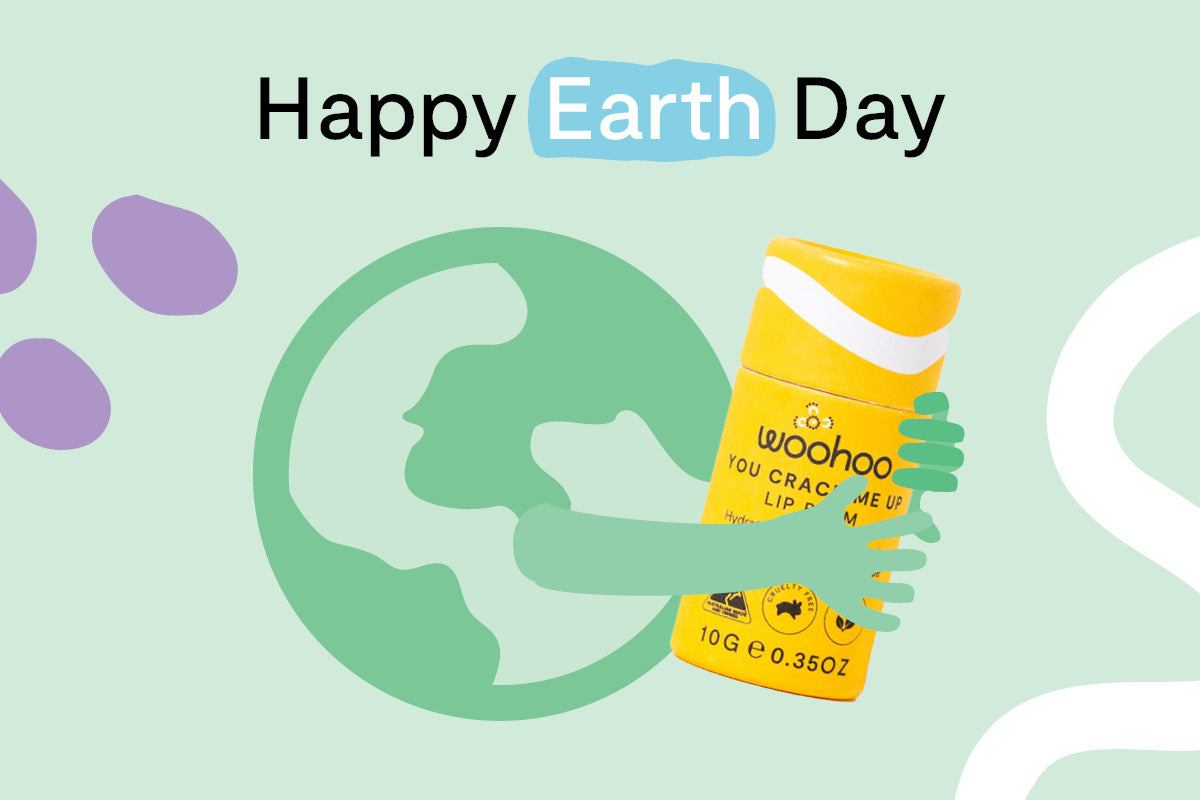 22 April is Earth Day, one of our absolute favourite days of the year 🎉
But let's be real, at Woohoo, we treat every day like it's Earth Day.
We're passionate about creating fabulously effective products that make you feel amazing, without compromising our precious planet. And we've been busy bees on our eco-friendly mission! 🐝
Today we're spilling the beans on our planet-saving initiatives and how we plan to do better.
And hey, we might even dish out the deets on where to score the world's most scrumptious vegan Cronut if you're lucky (that's a croissant mixed with a donut for those playing at home).
Let's take a peek behind the green curtains, shall we?
OUR IMPACT
♻️ Plastic Negative Superstars
We've earned our Plastic Negative Certification by partnering with rePurpose Global to remove and recover 2x the plastic waste our products create. Plastic-free or beyond Net Zero Plastic Footprint? You betcha!
🌱 Eco-packaging gurus
We use sustainable and biodegradable materials wherever possible, because Mama Nature deserves the best.
✔️ We believe in keeping it simple, which is why our packaging is intentionally minimalist. Most of our products don't require any extra packaging, and if they do, it's fully recyclable.
✔️ We ship all orders plastic-free using FSC-certified materials and home-compostable materials with no unnecessary waste (those little packing 'peanuts'  in the pic below are made from corn and dissolve in water!).
✔️ We use FSC-certified cardboard tubes for lip balms and deodorants, printed with plant-based inks so they're home compostable and curbside recyclable.
✔️ Our large skin and hair refill options come with aluminium screw caps instead of plastic pumps/sprayers, reducing plastic waste even further.
✔️ Plastic bottles, who? We're all about aluminium bottles and tubes for maximum recyclability. Go, green team!
We never settle for 'good enough' and are always working to improve our packaging game. Every time we launch something, we put it through its paces to make sure it's the best it can be for you AND the planet.
🐰 Vegan and cruelty-free champions
No animals are harmed in the making of our products - just showered with love, kindness and plenty of pats! Our planet-friendly, Aussie-made deodorants, skincare and haircare formulas are Certified as Cruelty Free and Vegan by PETA and Certified as Cruelty Free and Vegan by Safe Cosmetics Australia. Meaning? Our products use absolutely no animal derivatives and are only tested on willing humans. The way it should be!
🌿 Giving back with 1% for the Planet
We're all about sharing the love, donating to environmental and social causes close to our heart. Through 1% for the Planet, we've recently had the pleasure of contributing to these rockstar organisations:
✔️ Carbon Positive Australia: Restoring landscapes and tackling climate change like champs.
✔️ OzHarvest: Saving surplus food from the bin and filling hungry tummies instead.
✔️ Humane Society International Australia: Standing up for furry (and not-so-furry) friends and conservation.
✔️ ThreadTogether: Playing fashion fairy godmother, giving new clothes to those who need them most.
✔️ Children's Ground: Helping First Nations communities shoot for the stars.
✔️ KKT (The Karrkad Kanjdji Trust): Preserving Indigenous culture and biodiversity like a boss.
✔️ And let's not forget our local heroes! We're always eager to chip in with donations to various causes nearby, giving their fundraising a boost and spreading smiles all around.
💦 Natural, toxin-free, low-waste formulas
Our fantabulous formulas are created using the highest quality clean, natural, vegan ingredients with a dollop of organic goodness. This means they're both gentle on your skin, and the earth.
✔️ Each ingredient is ethically sourced from suppliers that prioritise fair working conditions and eco-friendly practices.
✔️ We adhere to the International Nomenclature of Cosmetic Ingredients (INCI) standard, ensuring no hidden nasties in our products.
✔️ We're big fans of Fair Trade Certified ingredients like Coconut and MCT Oils, supporting farms with top-tier agricultural practices.
✔️ Our website features 100% complete and accurate ingredients lists, so you're always in the know about what's in our products.
✔️ We're into minimising H2O by concentrating our products or creating water-free marvels. Why ship water around the world when we don't have to?
✋High five for team work
We're all about creating a warm, fuzzy, and super-inclusive team environment where everyone feels right at home - and, of course, has a blast!
✔️ Our squad is a beautiful kaleidoscope of peeps from all sorts of backgrounds, cultures, and life stories (because, hey, variety makes the world go 'round, right?).
✔️ We roll out the red carpet for our team, giving them fair pay, vacays, and competitive benefits - because they're all superstars in our eyes!
✔️ We're always making sure our company policies are on point, reflecting our dedication to diversity, inclusivity, and ensuring a positive, welcoming and safe work workspace for everyone.
✔️ We plan to keep on learning and growing together, with ongoing training and workshops on cool topics like inclusivity and ace communication skills to foster open dialogue and empathy among our team members.
Now that's the kind of workplace that makes us beam with pride! 😎
💚 Minimising our footprint
We're on a mission to tread lightly by continuously finding ways to minimise our footprint on this beautiful planet, one eco-conscious step at a time.
✔️ We source our ingredients from local Aussie suppliers and provide local jobs.
✔️ We proudly donate to Carbon Positive Australia, planting native trees and shrubs to boost biodiversity and balance our carbon impact with some leafy love.
✔️ We waved goodbye to glass bottles and jars, and said hello to lightweight, ultra-recyclable aluminium packaging (easier on the environment to transport and 100% recyclable).
✔️ Our fun-filled factory is fitted with energy-efficient lighting and appliances to keep things green.
✔️ We've got a fancy Recycling Program in place - check it out here
✔️ Our warehouse is a recycling wonderland, where boxes and fillers get reused so nothing goes to waste.
✔️ We're upcycling wizards, finding clever new purposes for factory containers like drums and big ol' buckets – because every item deserves a second act
✔️ We've helped 1.2 millions armpits switch to plastic-free! Think of all those plastic bottles that won't won't end up in landfill. Hooray!
❌ No shady stuff
Whipped up by our in-house cosmetic chemist (say hi, Aaron! 👋), our plant-powered potions are crafted to be super-duper efficient, packed with only the cream of the crop ingredients.
And guess what? You won't find any questionable stuff in our products, like mineral oils, parabens, sulphates, synthetic fragrances, animal derivatives, ingredients tested on animals, artificial colors, bleaches (e.g., benzoyl peroxide), aluminum salts, propylene glycol, triclosan, harsh detergents, triethanolamine (TEA)...
... and the "no-no" list goes on! So, you can feel fab knowing you're using clean, green, and oh-so-gentle formulas that do a world of good.
LOOKING TO THE FUTURE…
We're not stopping there. As we grow, we're pledging to do more for our big, beautiful planet.
✔️ We're dreaming big and aiming to become a certified B-Corp business. This means we'd be rocking the highest standards of social and environmental performance that a business can currently achieve.
✔️ We'll keep broadening our plastic-free horizons by diving deep into the world of solid skincare and haircare wonders (because who doesn't love a good zero waste innovation, right?)
✔️ We plan to switch to solar energy for our operations
✔️ We aim to be 100% Carbon Offset by 2026. It's a big claim, but one we feel confident we can tackle as we grow.
So as you can see, we're on an epic quest to be a truly green and sustainable brand. Sure, we're not perfect (who is, right?), but we're all about improving and levelling up!
And you know what? None of this would be possible without YOU!
So here's a ginormous THANK YOU for having our back and helping make the world a greener, happier place!
We pinky-promise to keep you, our amazing customers and community, in the loop along the way.
Cheers to loving our planet and making every day Earth Day🥳
PS. We're committed to being open and honest about our sustainability journey. We know we're not perfect, but we're always striving to do better. And we want you to join us on this journey! If you have any feedback or ideas about how we can improve our packaging or sustainability efforts, please reach out to us at crew@woohoobody.com.au. We're all ears!