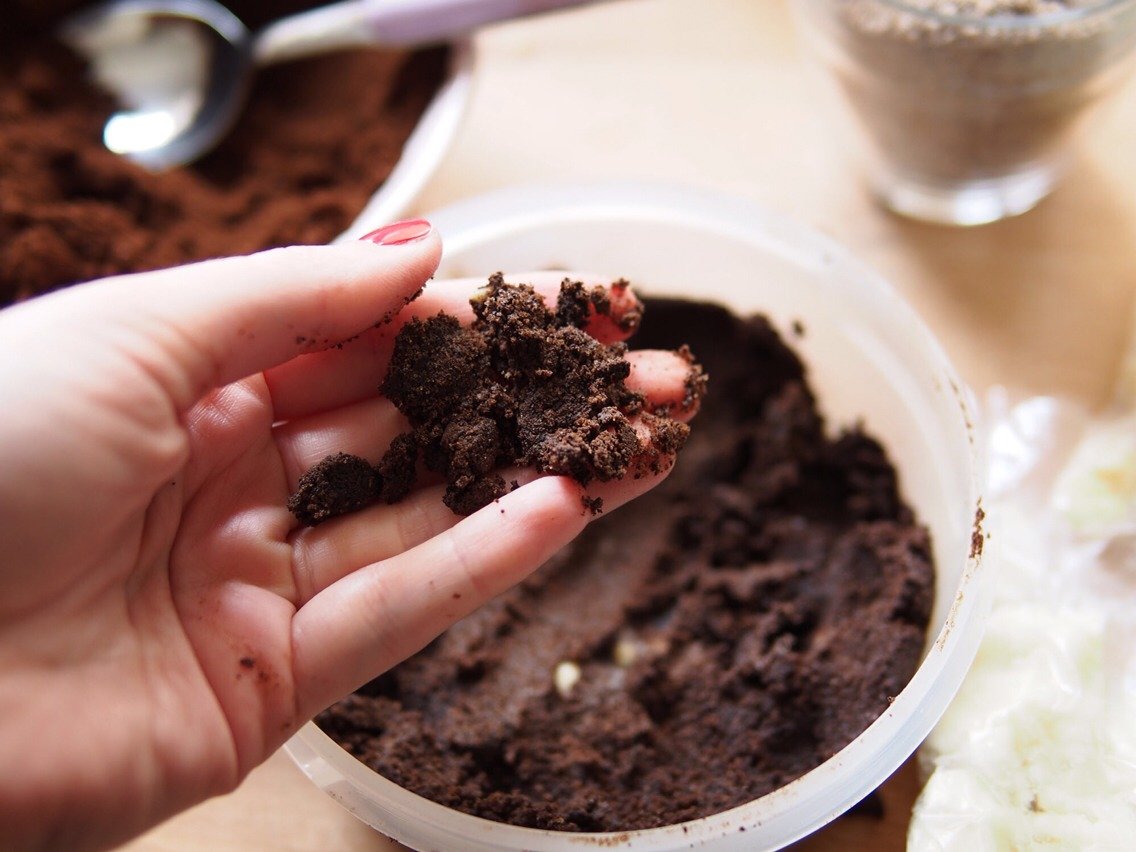 Coffee is one of the things in this world that stirs a passion in many people. There seems to be a new café popping up every week and gone are they days that you could only get a good cup of coffee in a big city.
For me the thing that rouses the senses is the smell of freshly ground coffee. I am always amazed at how a simple aroma can change your mood, relieve tension and bring a flood of happy memories. And coffee does it every time.
Crazy Tidbit: Smelling coffee cleanses your olfactory palate. Just like sorbet cleanses a food critic's palate, coffee can cleanse your nose so you can smell different fragrances better.
It's only a small thing but we always have a family morning tea together. It's one of the few moments where we have 15 minutes and (try to) chillax over a coffee. Our favourite part of the day.
But coffee is not only good for drinking.
Coffee has made a real splash in the beauty world recently. It turns out that the antioxidants and caffeine in coffee can do some really good things for your skin.
That is why we included it in the Happily Ever After Vitamin C Eye Serum. The caffeine can reduce inflammation and swelling which is great news for puffy eyes and dark circles after a big night.
The antioxidants also help by protecting your skin against the skin wrinkling effects of the sun. Go coffee!
Getting dirty in the shower
Coffee is definitely something you want in an eye serum, but it's also a phenomenal body exfoliator. Coffee scrubs have a massive following right now – it seems everyone is doing it. Intoxicating aromas and soft beautiful skin is a combination which is hard not to love.
Coffee makes a great exfoliator because coffee grounds are gentler than other physical exfoliators. So you end up with gloriously smooth skin without over-scrubbing. Throw in the benefits of caffeine and no wonder coffee scrubbing is so addictive.
Who doesn't want soft, beautiful, glowing skin? Silence…. We thought as much.
There are plenty of coffee scrubs out there but it's just as easy to make your own. Making your own is also good because the fresher the coffee the better.
Can coffee scrubs get rid of cellulite?
There are some people claiming that coffee scrubs get rid of cellulite but we're dubious. You can see cellulite temporarily disappear if you scrub really hard. This is because scrubbing too hard will cause irritation and swelling which firms your skin, reducing the appearance of cellulite.
But scrubbing too hard is definitely NOT recommended because it may lead to a more serious and unwanted skin issues. So take it easy and don't overdo it please
Our DIY Coffee Scrub Recipe
Here is our super-simple 'blow ya mind,' 'smells freaking amazing' DIY Coffee scrub.
How to do it: Get in the shower, get wet and rub coffee all over your body with a gentle circular motion (avoiding your face and delicate areas of your neck). Pay particular attention to your feet if they've been neglected lately. They'll thank you for it. Inhale. Enjoy. Rinse off and feel incredible.
Phoebe had some fun with our 2 boys for the photo, because they were just itching to get dirty, but generally speaking your kids shouldn't need to scrub! If they insist on joining in the fun, be really gentle with them and go outside like we did. A foot rub in the sun is a marvelous experience. We're already talking about making it a weekly event.
If you didn't want use up all your Blissed Out Body Oil or prefer something essential oil free you can use coconut oil, macadamia oil or olive oil instead.
Here's another variation you can try. Dare you not to eat it. It's like turning your body into a big mint slice
7 tablespoons of ground coffee
1 tablespoon of cocoa/cacao
5 teaspoons of coconut oil, macadamia oil or olive oil
3-5 drops of peppermint essential oil