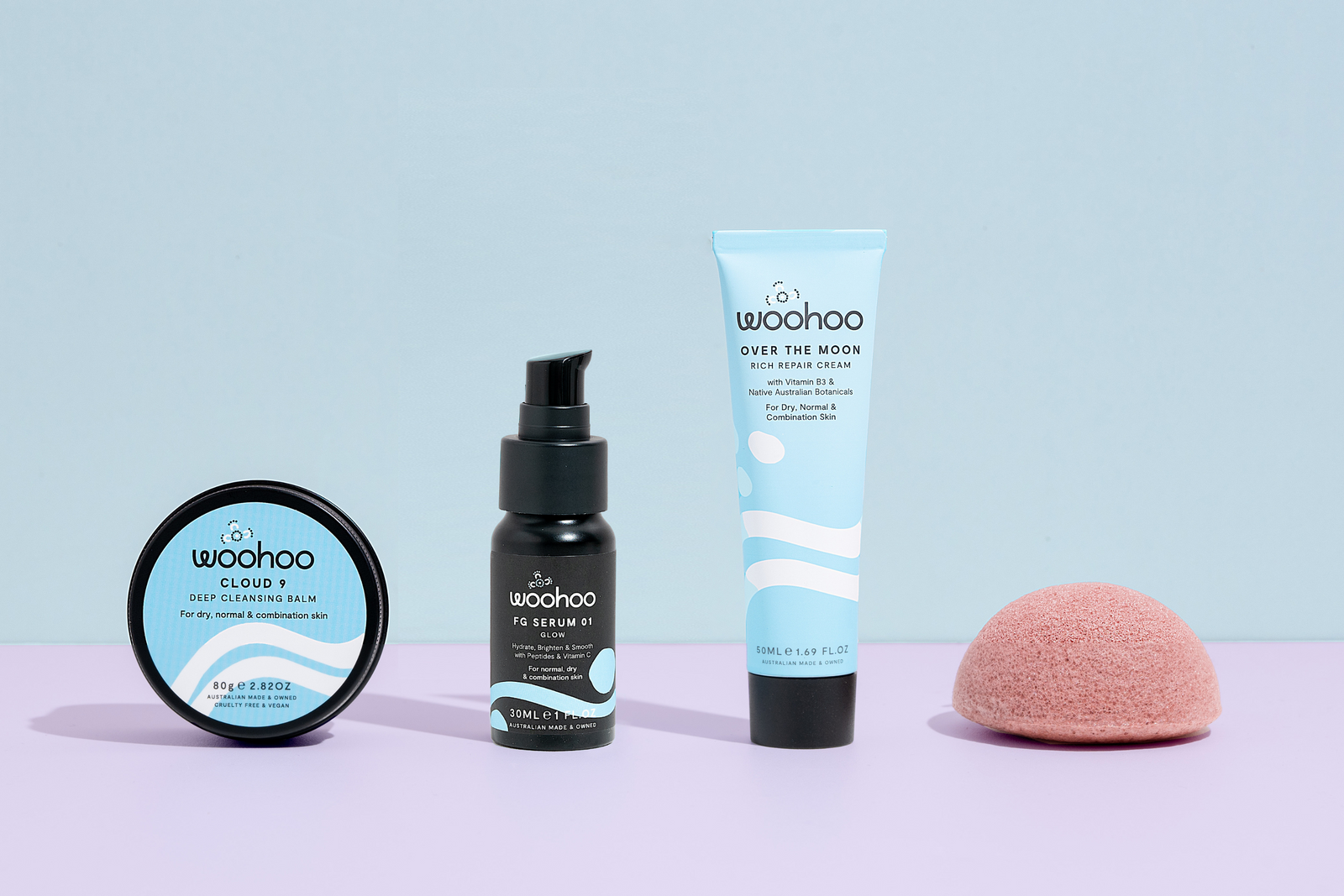 The Basics - for best results repeat morning and night
Use these steps to get started with your Woohoo basics:
Cleanse

- Mix an almond-sized amount of Cloud 9 Deep Cleansing Balm in your hands with just a couple of drops of warm water to create a rich milk. Massage into your face well to melt away daily grime and makeup. Gently and thoroughly remove by wiping with a warm wet Konjac sponge or soft cloth.

Treat

- Pour a small amount of the Raindrops Hydrating Tonic into your palm and gently smooth/pat across your face, neck and decolletage.

Moisturise

- Follow with a small amount of your preferred moisturiser whilst your skin is still damp. You might like to use your Over the Moon Rich Repair Cream as a day cream and Sweet Dreams Ultra Rich Beauty Cream as a night cream, but there are no rules - just go with what your skin loves most!
Deluxe Extras - Brightening or Calming Treatments to amplify your results
When you're upgrading your Woohoo skin routine to include some of our deluxe extras, we recommend using them in this order:
Cleanse

Exfoliate or Mask (usually on alternate days or 1-2 days per week)

Treat (Tonic first, and then Serum)

Moisturise (Cream first, and then Facial Oil)
It's really up to you to personalise your routine based on what your skin responds best to, but this is a great starting point!
Exfoliate or Mask - An exfoliating product can be used multiple times per week for your glowiest skin, however it may be best to start with just 1-2 times per week to make sure you don't over-do it. We don't recommend using all of these exfoliators/masks together - it's best to alternate them to see which one you like best. The optimal time to exfoliate is after your cleanser.
Here are our exfoliation and mask options:
'Spoonful of Sugar' Exfoliating Scrub ("physical" exfoliator using sugar crystals) - Click here for directions (scroll to the 'How to Use' section).
'This Is Me' Enzyme Exfoliating Mask ("chemical" exfoliator using natural acids) - Click here for directions (scroll to the 'How to Use' section).
'Mud About You' Pink Clay Mask - Click here for directions (scroll to the 'How to Use' section).
Serum - FG Serum is best applied before your moisturiser. Massage a drop or two into your skin and follow with your preferred moisturiser/s.
Facial Oil - Just 1-2 drops of facial oil can either be a fabulous alternative to a moisturising cream or the final step at the end of your routine to lock in all the Woohoo Goodness.