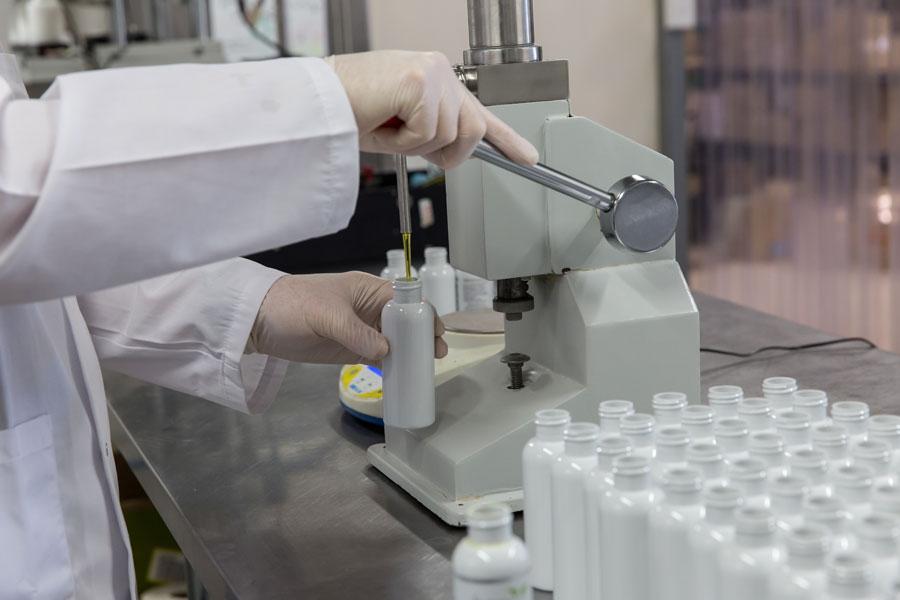 Once upon a time we didn't know all that much about making skincare products. We knewwhatwe wanted to make, andwhy, but thehowwas missing.
So we did what so many brands do, and we called in an expert - a contract manufacturer.
A contract manufacturer is someone who will make your products in their facility. They usually take care of everything to do with development and production. Facilities, sourcing, making, packaging, labelling is all taken care of for you.
So all you need to is place and order and 6-8 weeks later your product arrives ready for market.
Sounds like a pretty cool and stress free way to get into the world of beauty. Someone else does the heavy lifting so you focus on the other areas of business. It's easy to see why LOADS of brands do this.
So why did we stop?
There were plenty of reasons actually!
We're control freaks (but in a good way, we think!). We wanted to know exactly what was going on with production, from ethical sourcing of ingredients, to the magic of making products, to packaging. We couldn't stand not knowing every little detail.

The manufacturer was another middle-man. Someone else wanting a cut, and we wanted to keep our products as affordable as possible.

We didn't get to grill the ingredient suppliers. Contract manufacturers kept their suppliers secret, which means we didn't get to ask all the nitty gritty questions we need to in order to make sure our ingredients are only the very best.

Loooooooong lead times. We weren't their only customer and our ingredients weren't always there ready to go. Imagine if we couldn't restock a Woohoo Skincare product for 4 months. Happy would be Unhappy!

They had large minimum orders, which meant products were made in huge batches. This was expensive for us, but it also lost something special. It's hard to describe, but it seemed to lose the human element.

Our products weren't *really* our products. Sure, we gave guidance and ideas but when it came to the crunch, we didn't really even own the product formulas. They just had our name on the labels.

We were 100% confident that we had the knowledge to take over and create products that were better than those that our contract manufacturer could make for us.
What did we do instead?
Well, to start with, Happy took over our home! It was insane but it was pretty cool too. We were living the dream (amidst about a million boxes).
When our oldest boy learned how to walk and press buttons, we realised something had to change. We had to get outta there :)
So we moved to the Happy Shed in Maryville (and then on to Adamstown, but that's a story for another day!) where we could keep right on growing and growing. A few years later, the Happy Shed has become the beating heart of operations.
To this day a jam sandwich still tastes better when Mum makes it. That's because it was made with care and love. Contract manufacturers are are experts and know what they are doing but they are doing it for too many customers. They lose the soul.
We love what we do and it sounds a little "woo-woo" but the Happy Shed adds our own special energy into the products. No one else can do it. It's our special magic because we know every detail intimately. It starts with us and it ends with us.
We know where and who our ingredients come from.
We stick to small artisan batches to keep things fresh.
We don't outsource anything. And we don't want it any other way!
Your Happy products are 100% made by us. No shortcuts :)
Ever wondered who made your fave Happy product?
You already know us (Aaron and Phoebe), but meet our compounding extraordinaire, Dave, and the wonderful lady responsible for making your deliveries look so special, Michelle. We'd be lost without them.