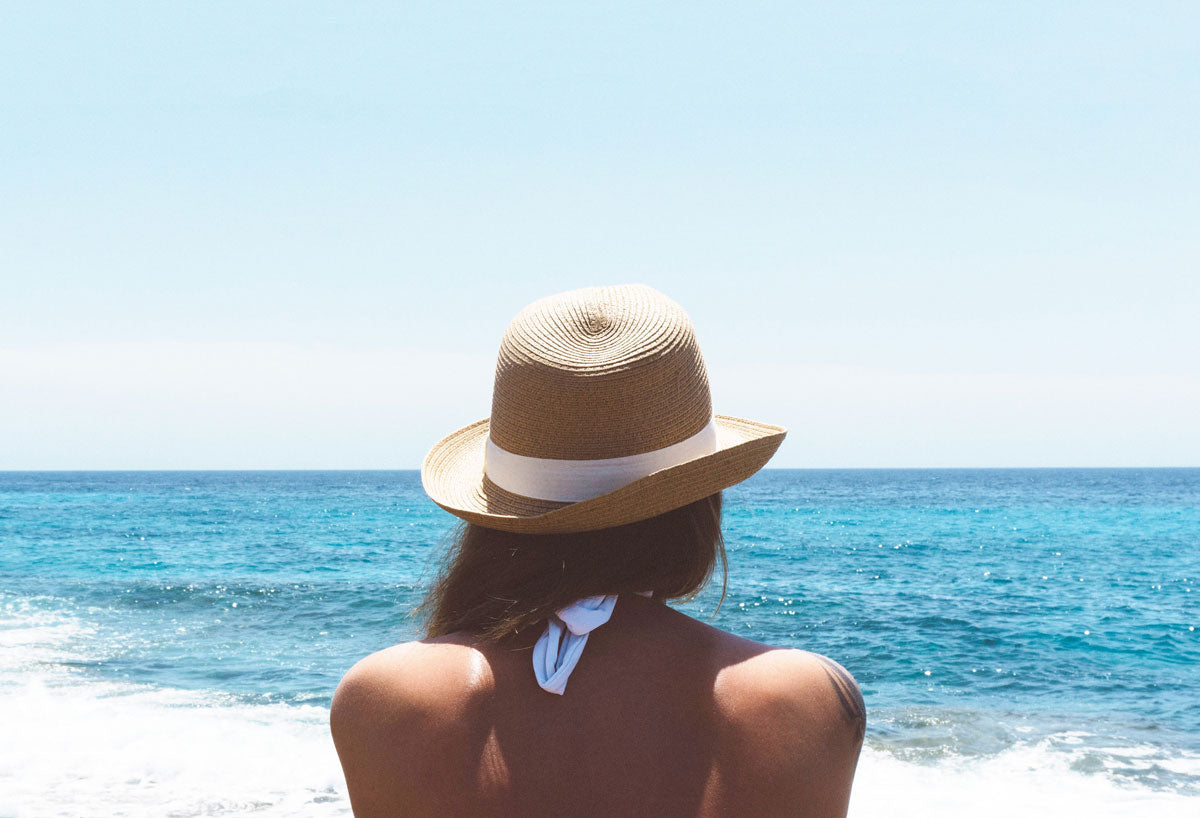 Most of us know that the very best cure for sunburn is to prevent it from happening in the first place. But even with the best intentions, many of us end up with that dreaded lobster look.
Don't beat yourself up over it. Instead, focus on relieving your discomfort and repairing the damage that has been done to minimise the long-term effects on your skin.
Sunburn happens when the sun's ultraviolet radiation damages the DNA inside your skin cells. As a result, those cells die in a process known as apoptosis. This excessive damage and death prompt your immune system to release a flood of inflammatory proteins and blood to the area. In the process, the outer skin becomes hot, irritated, and red. Ouch!
There are tons of crazy medications and 'synthetic' solutions out there, but the cure-all answer is surprisingly simple: just cool and moisturise your burned skin with nature's remedies! Here are a few of our favourites.
Aloe Vera is your BFF
Aloe vera is your bestie if your skin is sunburned. Especially if your sunburn has reached the painful peeling stage. But the earlier you can get some of this magic gel onto your sunburn, the better, as the gel from inside the Aloe cactus plant eases discomfort, speeds healing, and moisturises your skin.
After carefully showering with lukewarm or cold water and drying off, use a lightweight aloe vera gel (like the Serenity Hyaluronic Gel) to the affected area to cool overheated skin and deliver hydration into parched cells.
You can apply aloe vera directly from the plant itself if you're lucky enough to have access to some (it's pretty easy to grow in your garden – even Phoebe manages to keep aloe vera plants alive!🤣). If you're using a store-bought aloe product, just make sure it's formulated with 100% of the hero ingredient and avoid any additives, colours, fragrances, and numbing agents that can be more irritating to the burn. For an even more calming effect, leave the gel in the fridge for 30 minutes before putting it on the skin. Repeat application every three hours.
Here at Woohoo, we created the Serenity Hyaluronic Gel as the ideal solution for after-sun care. The Serenity Hyaluronic Gel is a whole-body, super-lightweight, intensely hydrating moisturising gel. From tip to toe, it's perfect for after-sun care, post waxing, or anywhere that needs deep hydration and reduction of visible redness. The sensitive-skin-loving formula is extremely gentle and packed with Australian Tasman Pepper, Aloe Vera, Hyaluronic Acid and Vitamin B5 to nourish and strengthen stressed out skin.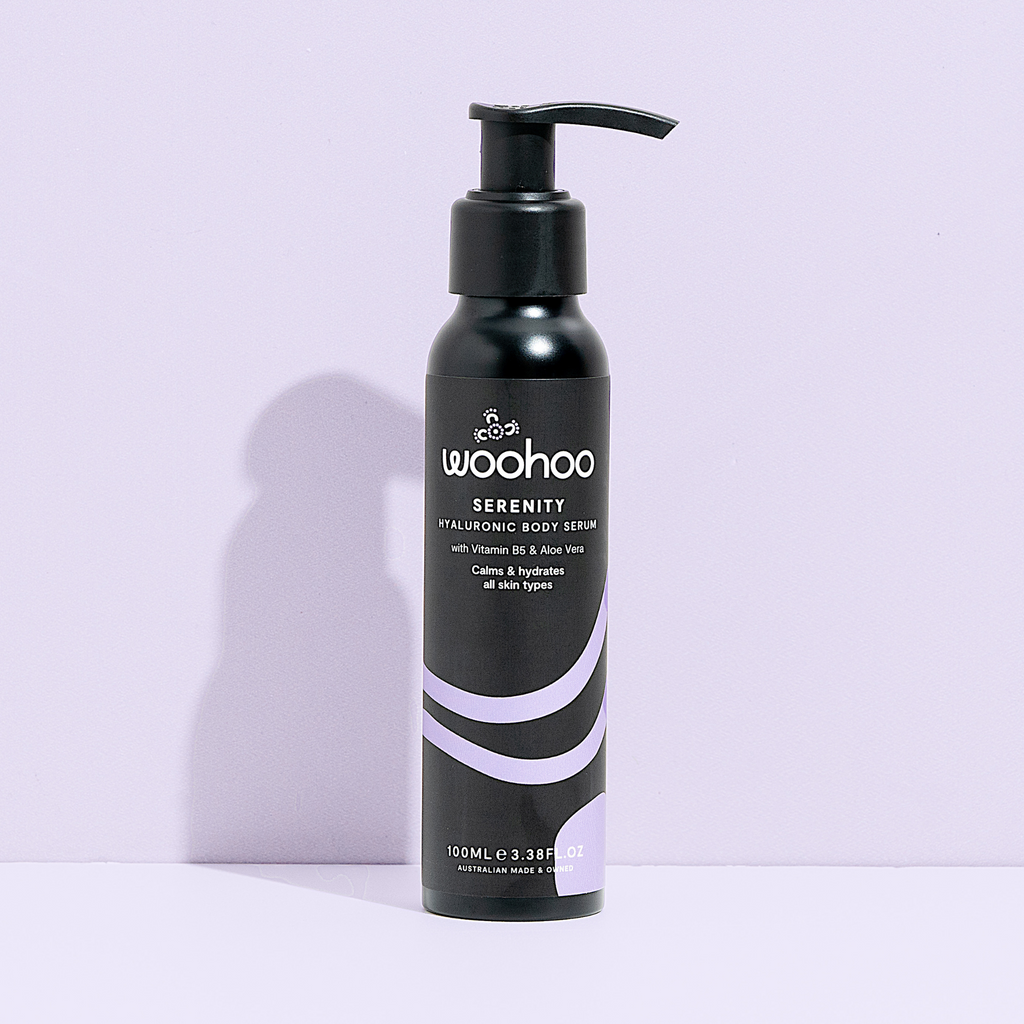 'Serenity' Hyaluronic Body Serum 100ml
$24.95
SHOP NOW
For another beauty high in aloe vera and with skin calming magic, you might love the Fairy Godmother Serum #3. It shares some common ingredients with the Serenity Hyaluronic Gel but ups the ante with even more actives for ultimate soothing.
SHOP NOW
Slip into a Milk and Oatmeal Bath
Shower sound too painful? Skip it for a milk and oatmeal bath. Mix six cups of whole milk and finely ground oatmeal into a lukewarm or cool tub of water to soothe skin fast. The fat and proteins in the milk have an anti-inflammatory effect when mixed with bath water, while oatmeal is a natural redness reducer and repairs the skin barrier.
If you're vegan you can skip the milk and the oatmeal will still do a beautiful job on its own. Or substitute the milk for chamomile tea (read on!).
Slather on some Dilo Oil
Now, sunburn is painful enough on its own, but it can be especially uncomfortable at night. Usually soft sheets can feel like sandpaper on damaged skin. We recommend slathering on some Dilo Oil (also known as Tamanu Oil) just after you get out of the shower (to slightly damp skin and then again right before you sleep, to provide instant comfort as you snooze).
In the South Pacific Islands, Dilo is a traditional treatment for all sorts of skin concerns. Here at Woohoo Body, it's one of our go-to ingredients when it comes to aggravated skin and calming redness. It's sooooo good for your skin because it's a natural anti-inflammatory and it has the ability to help form new skin tissue, plus its soothing nature will ease the urge to itch your sunburn.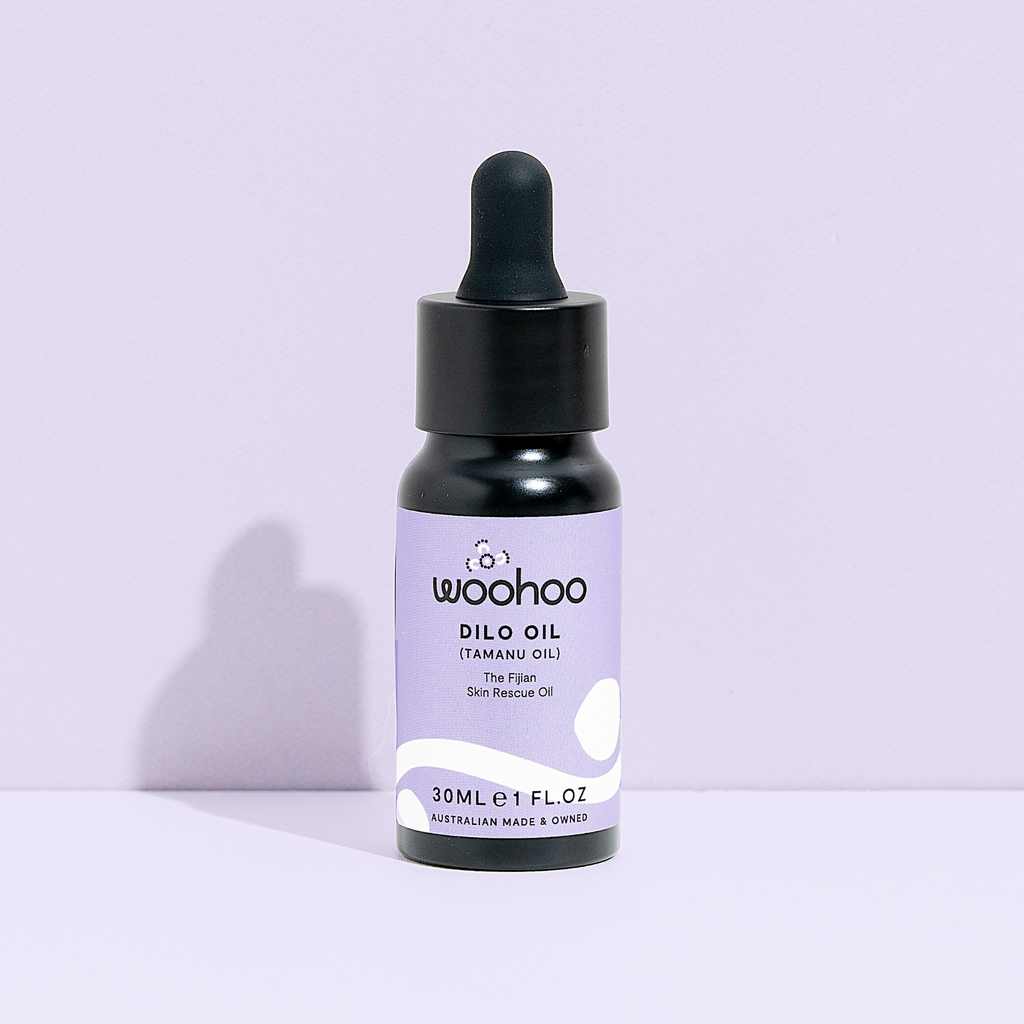 Dilo Oil (Tamanu Oil) 30ml
SHOP NOW
Apply (don't sip!) Chamomile Tea
Chamomile tea can be soothing to your spirit, but it can also soothe your red, raw skin. Brew the tea as you normally would and let it cool. When it's ready, soak a washcloth in it and apply it to the affected area. If you are allergic to pollen, avoid this treatment. It may cause an allergic reaction.
Future-Proof your Skin
Even after the sunburn goes away, you might see lasting effects on your skin and face, such as fine lines, wrinkles, or solar lentigines, usually known as sunspots, and freckles. All of these markings more commonly develop after repeated exposure to the sun.
If you notice these changes, applying a natural retinoid like Butterfly Kisses Probiotic Gel Cream could help, as well as dosing up on plenty of topical Vitamin C to remodel your skin's collagen and block the production of the skin pigment melanin, which helps make sunspots fade (we love Sunrise Over C Mattifying Facial Oil and Fairy Godmother Serums #1 & #2).
Another handy top-to-toe natural remedy is none other than our TLC Intensive Repair Oil. This super elixir is jam-packed with 8 incredibly nourishing, healing and soothing plant oils, such as Vitamin E, Avocado Oil, Tamanu Oil and Macadamia Oil, that are known anti-inflammatories and help trap in moisture and protect skin cells from deterioration.
Go out and enjoy the sun—but don't forget to protect your skin, Woohoo-ers!