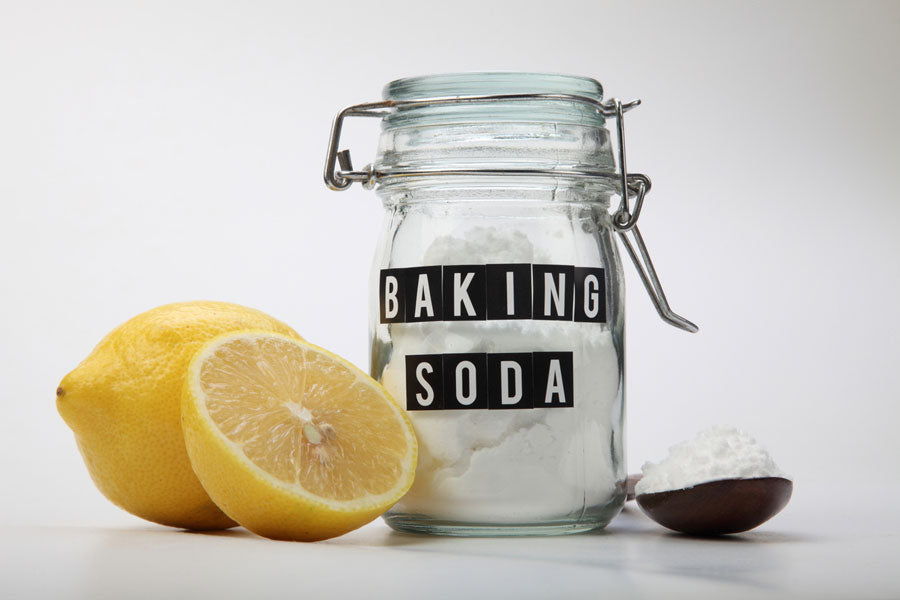 We're becoming increasingly aware of the amount of pollutants in everyday products that are bad for our health and so not good for the environment.
Yet, when it comes to cleaning our homes are we smart enough to ditch the chemical-laden kitchen spray and the toxic toilet cleaner?
Well… are we? *scratches head*
We all have hazards lurking in our home so the more household toxins we can banish, the better.
Let's start under the sink…
Yes the chemicals in your foaming cleaning spray, bleach and disinfectant make your sink shine and your benchtops gloriously germ-free, but they can be harmful to your health if inhaled or touched.
We know, the thought of ditching your stash of cleaning products is probably sending alarm bells ringing, but it's a surefire way to reduce the amount of chemicals in your home.
That's a good thing!
Check out our 5 tips for cleaning your home the natural, toxic-free way…
1. Grease be gone
Mix equal amounts of baking soda and coconut oil and you have a gun-of-a-grease-cleaner. Goodbye gunk, so long sticky residue. Hello nice clean home.
2. Get your shine on
Don't you hate it when your stainless steel goes all dull-looking? Instead of calling on your chemical-loaded cleaner use a bit of cream tartar and water. So simple. So effective.
TIP: Hold onto your empty Woohoo deodorant tub as it makes a perfect bowl for mixing your cream tartar and water. Nifty eh!
3. Super scent
Farewell artificial home fragrances; a DIY chemical-free air freshener will leave your home smelling just as amazing. In a little bowl, mix together 1 tablespoon of baking soda and 5-6 drops of your favourite essential oil. Transfer to a spray bottle and add 1-2 cups of distilled water. Voila…a safe and homemade air freshener.
4. Bacteria busted
Forget using bleach to kill the bacteria on your sponges and cleaning cloths. Instead, pop your cloths and sponges in a pot of water, bring to the boil and continue to boil for two minutes. It's a totally toxic free way to nuke nasty bacteria.
5. Vinegar ain't just for chips
Combine white vinegar, baking soda, citrus (squeeze a lemon or lime – your choice) plus a little water, and mix together. Meet you new cleaning chum. This awesome mixture can be used to clean your sink, scrub bathroom tiles and even as a toilet cleaner. Now if you haven't been to a chemistry class for a while - prepare yourself. There will be some foaming/bubbling. Makes it twice as fun!
Did you know that household dust can also harbour chemicals, so let's turn up our favourite tune and do a dance with the vacuum.
Got any DIY cleaning tips? Share below!