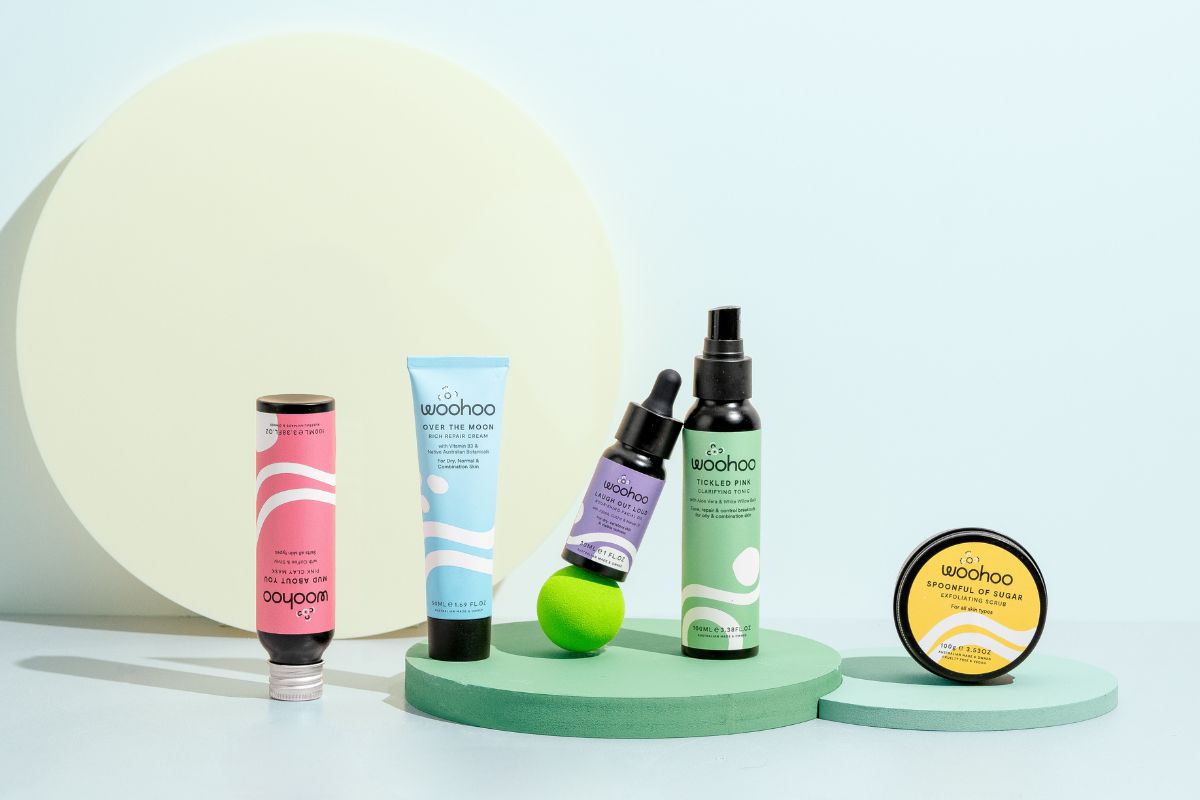 Here at Woohoo, we know that your skin can throw you a curve ball every now and then (or every day!). And it's our mission to help you feel good and glowy in your skin, whatever it throws your way.
Our high-active, vegan, cruelty free, clean skincare range has been 13 years in the making, and over that time we've learned what really works when it comes to caring for challenging skin.
Competition is tough out here in the skincare industry, and that's why we (Phoebe, Aaron and our legendary Woohoo team), are constantly pushing the limits as to what we can achieve as a small brand to differentiate ourselves from all of the other natural (and not-so-natural!) skincare brands out there.
Here's our list of 7 reasons why you need to try our natural skincare creations (...we could've kept going!):
We use proven active ingredients at the right level. Not many people realise, but you CAN have too much of a good thing, and that quite often less is more when it comes to active ingredients in skincare. Just think of Goldilocks. You need the perfect amount. And we've nailed it.
We formulate to minimise irritation. We leave all the common irrtants out of our skincare formulations (even the natural ones). And the not-so-common ones too. Even the greatest active ingredients won't help your skin if it's fighting irritation, so our entire range is formulated with sensitive skin in mind.
Safety. Then results. Then planet. Then profits. We don't formulate our products to maximise margins or for mass production. We formulate first for safety, results and eco-friendliness, and THEN we think about prices. The profit margin is not the be all and end-all. We'd rather have a product that really works than one with high profit margins that leaves you feeling let down.
Price tag does not equal quality. The goodness we squeeze into our planet-friendly packaging is no less amazeballs than products that some people pay up to $300 for. You see, there's no middle-man here - no contract manufacturer, no external warehouses - so you don't need to pay hundreds for your lotions and potions brimming with high quality ingredients.
We play the long game. Woohoo Skincare is not about quick overnight fixes that are short lived and end up just making you look older. It's about providing you with long term glowing, healthy skin. Of course you'll start seeing fabulous results quickly but you should think of Woohoo skincare as an investment in your skin's future. Corny but true.
Mass production is not our jam. Woohoo HQ is a boutique workshop where our clean and conscious creations are all handcrafted in small batches. Our warehouse is a fabulous place where we are focused on making your skincare dreams come true!
Honesty and transparency is where it's at. We're passionate about cutting through the marketing spin you usually get in the skincare industry - you'll ALWAYS know exactly what you're putting on your skin and that it's totally safe.
Not sure where to start? Need personalised advice?
Because everyone's skin is different there's no one-size-fits-all skincare routine, and that's where it gets a bit tricky. You'll need different products depending on your skin type and unique concerns.
If you'd love to get started and see what our natural skincare creations are all about, the easiest place to get started is with our super-sized sample packs.
If you're still needing a little more personalised advice, book in a free skin consult and we'll help you understand your skin's needs and match it to the right products from our large range.